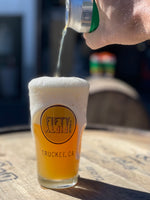 Tilting At Windmills is the collaborative effort of the talented brew staff at FiftyFifty and Good Wolf Brewing, and the generous folks down at Windmill Farms in Sebastapol, who generously donated this beautiful crop of Centennial and Cascade fresh, whole cone hops that were used in the making of this wonderfully aromatic wet-hopped pale ale.

And best of all, by purchasing this beer, not only will you feel good, you'll do good too, as this batch benefits Achieve Tahoe, a local nonprofit that provides year-round outdoor recreation activities for people with cognitive, sensory, and physical disabilities.
Available at Good Wolf and FiftyFifty on draft for a limited time.