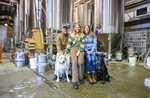 It all started with the Leg Lifter Ale that we created in partnership with the
Humane Society of Truckee Tahoe (HSTT), with $1 from every sale donated to the non-profit. Since then, we've created Leg Lifter swag, sponsored multiple HSTT events and the Pet of the Week 101.5 radio ad, and more.
Fun Fact: Owners Andy and Alicia Barr have adopted 2 dogs and 3 cats from the HSTT. 
We can't believe it's been 10 years!! Read the whole story in the Sierra Sun here.