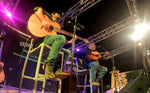 MAY 27 | 6PM | FIFTYFIFTY BREWING CO. PUB | FREE
Kicking off the 6th year of their perpetual national tour, which has been touring the US playing more than 500 craft breweries from coast to coast since 2018, Dennis O'Hagan teams up with his son, Freak Mythology's Brad Wehlitz, for a series of shows as a duo.

Both artists are multi-instrumentalist and will be trading off on guitar, bass, mandolin, lap steel, bouzouki, harp, and percussion, and harmonies on their own material, traditional Americana and Celtic tunes, punk, folk, and eclectic covers that you don't expect to hear, but sure do love. Also hear tales of their travels playing 500+ craft breweries in 45 states!

Catch them at the FiftyFifty Brewing Co. pub on May 27 at 6pm. This is a FREE show! Learn more about Dennis, Brad, and the Great Brewery Tour here.