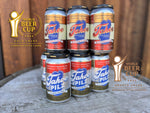 The newly released Tahoe Series of beers from FiftyFifty Brewing Co. claimed gold and bronze awards in the 2023 World Beer Cup®, a global beer competition that evaluates beers from around the world and recognizes the most outstanding brewers and their beers globally. 
Awards were given in 103 beer-style categories during the World Beer Cup® awards ceremony on May 10, 2023, at the Music City Center in Nashville. 
The Tahoe Series was designed to honor Truckee-Tahoe's storied brewing past, highlight the world's best water source, and celebrate craft beer. In the late 1800s, the Truckee-Tahoe was world famous for its lagers because of the pure water source and the natural refrigeration required for true lagering, before refrigeration existed. FiftyFifty Brewing Co. was awarded medals for two lager beers that are part of their Tahoe series: Tahoe American Lager and Tahoe Pilz. These beers showcase two of their favorite styles, brewed from craft recipes they've been perfecting for a number of years. 
"It is especially exciting to win with these two Tahoe lagers because they truly highlight the quality of our water, as well as the skills and passion of our brew team", said Alicia Barr, Co-Founder and Chief Experience Officer of FiftyFifty Brewing Co. "Plus, it's on the back of this record breaking winter where we received way more water in its frozen form than we bargained for, which just seems appropriate somehow."
Tahoe American Lager received a GOLD medal in the American Style-Lager category as the top American style lager in the competition. Tahoe American Lager (TAL) is a light, crisp, and balanced lager with a bright effervescence and low bitterness. Tahoe Pilz received a BRONZE medal in the Bohemian-Style Pilsener. Tahoe Pilz is a classic pilsner that is light bodied with a hint of citrus hop character and a bright, clean finish.
FiftyFifty Brewing Co. is a global production facility and brewpub with locations in Truckee CA, Lake Tahoe, and Reno NV region, that specializes in small batch craft lagers, hoppy ales, and innovative barrel aged styles. Their Eclipse Barrel Aged Stouts have won international accolades and an occult following. 
"We are honored and proud to receive these awards, especially for two lager beers in our newly launched Tahoe Series. When it comes to awards and accolades they can be an important measure of innovation, craft quality, and consistency, but what really matters is—does the beer taste good and do people enjoy it? We hope everyone is enjoying these beers as much as we do." said Andy Barr, Co-Founder and CEO at FiftyFifty Brewing Co.
World Beer Cup® winners were selected by an international panel of 272 beer judges from 26 countries. Widely regarded as the "Olympics of Beer," the 2023 World Beer Cup® featured 10,213 entries from 2,376 breweries in 51 countries.
"The World Beer Cup® brings together the finest brewers and beers from around the globe and celebrates creativity, craftsmanship, and passion for great beer," said Chris Williams, World Beer Cup® competition director. "Receiving a World Beer Cup® award is a testament to quality and innovation, and we commend this year's winners for setting the bar higher than ever."
Presented by the Brewers Association, the World Beer Cup® is held annually to celebrate the art and science of brewing by recognizing outstanding achievement. For additional information, visit the World Beer Cup website.