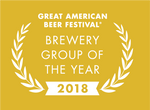 FiftyFifty Brewing, Truckee's original mountain town brewery, wins Brewery Group of the Year at 2018 Great American Beer Festival.
FiftyFifty was started in 2007 from a frustration with corporate life, and a love of a good beer. 12 years later, we're beyond excited at the team we've built, the beers we've made, and the experiences we've fostered. To be named 'Brewery Group of the Year' at the 2018 Great American Beer Festival was icing on a cake that was already pretty sweet.
We've been fortunate to win awards every year we've been in business. A gold for a stout here, a silver for a porter there - we never take it for granted and it pushes us each year to be better, to seek out new flavor profiles, new ingredients, and to push the boundaries for taste. The craft beer industry has grown tremendously since we started in 2007. Back then there were about 1,200 craft breweries in the country. Barrel aged beer was still somewhat new and novel. Today there are over 6,000 craft breweries in the country. To put that in context, this year's 2018 GABF competition winners were selected by an international panel of 293 expert judges from 8,496 entries, received from 2,404 U.S. breweries. There were more submissions in 2018 than there were breweries less than 10 years ago!
With all the breweries popping up its become more and more difficult to stand out. There are a ton of great IPAs out there. Breweries are experimenting with flavors, formats and more. Many of them are making exceptional beer (look for another blog on some of our favorites from around the craft brewery world) while some follow trends, or look to see how far outside the realm they can go (Mega-super-quintuplet-suck-your-face-off-IPA anyone?). We don't judge that at all, but it's not for us. We're about Balance. We always have been. If it tastes good it is good.
That's why we're so excited about this GABF award - it's about the taste of our beers. We won based on the cumulative score of three beers we entered: Bananenhängematte, won a Gold in the 'German-style wheat beer' category.  I Did It All For The Cookie took Silver in the 'Specialty beer' category. And finally, Eclipse, our flagship beer won a Bronze in the 'Wood- and Barrel-Aged Strong Stout' category. Three very different beers, and each one of them unique in their own way. That variety and balance is what we're all about so it was great confirmation for the entire team to keep on making great beer, right here in Truckee.