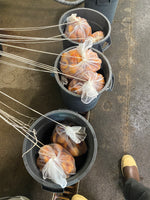 During the final harvests of summer, our brewers were able to source some fresh local nectarines and turn them into liquid gold.  Working on our pub pilot brewhouse, our team of brewers were given creative license, and brewed a fantasic fruited Berliner Weiss: Nektarine Knockout.
Brewed with 2-row malt, white wheat malt, unmalted white wheat, Mandarina Bavaria hops, California Ale yeast, and of course fresh nectarines - this beer has a wonderful balance, effervescent mouthfeel, tart fruit, brite acidity, and a clean finish.
To really go the extra mile, our brewers took the remaining nectarines and crafted a housemade nectarine simple syrup for garnish, balancing out the dryness and acidity quite wonderfully.  Your nose and tastebuds are in for a fantastic post summer treat!