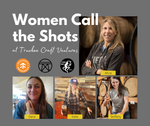 Truckee Craft Ventures (TCV), the umbrella company to FiftyFifty Brewing Company, Old Trestle Distillery, and Drunken Monkey Sushi, exemplifies the power of female leadership. From President to Head Brewer, Distiller to General Manager, women call the shots at TCV's sister companies.
Alicia Barr, Co-Founder, Chief Experience Officer and President of Truckee Craft Ventures
While Alicia's technical expertise previously lay in product design, structural analysis, and global supply chain management for Hewlett Packard, she now focuses on company culture, marketing, customer relations, and research and development, occasionally playing in the brewery herself.
In addition to her work at Truckee Craft Ventures, Alicia has served as Mayor of Truckee and is currently involved in various community organizations such as the Tahoe Forest Health System Foundation, Truckee-Reno-Tahoe Brewers Guild, Government Affairs Committee of the Brewers Association, California Craft Brewers Association Board of Directors, Chair of the CSU Chico College of Engineering Advisory Board, and Co-Founder and Chair of the Truckee Reno Tahoe Brewers Guild. Past community service roles also include Treasurer of the Truckee Roundhouse non-profit, strategic consultant for the Truckee River Watershed Council, and a volunteer for the Sierra Senior Services Meals On Wheels program.
When she's not working, Alicia enjoys spending time with her family and friends, mountain biking, trail running, snowboarding, and playing ultimate Frisbee. Her favorite beer is CAPA (California Pale Ale), for its classic balance of hops and malt, and how flavorful and easy-drinking it is. Her favorite Old Trestle Spirit is Gin Theory 003, a smooth and delicious gin that she enjoys sipping straight over rocks.
Through her work and passions, Alicia continues to make a positive impact on the Truckee community and beyond.
Dana Fleming, Head of Brewer Operations at FiftyFifty Brewing Co. 
Dana has always had a love for beer and brewing. Her passion for the craft was sparked by her father, who was an avid home brewer.
Despite studying Fine Art and Sculpture in college, Dana made the transition from bartending to brewing professionally after graduation. She worked her way through various breweries in Los Angeles and Hawaii, honing her skills and developing her passion for the craft.
Eventually, Dana found her way to Truckee, with cold and snowy winters and fantastic craft beer scene. The chilly climate was no match for her love of brewing, and she quickly made a name for herself as an expert in the industry.
Dana's favorite beers at FiftyFifty Brewing Co. include the Tahoe American Lager, a classic beer-flavored beer, and Space Dog, a creative and unique brew that showcases fun and interesting hops.
Outside of brewing, Dana enjoys cooking, music, and spending time outdoors and in the water. Her love for the outdoors is reflected in the beers she brews, often incorporating local ingredients and inspiration from the natural beauty around her.
Dana's passion for brewing is evident in every pint poured at FiftyFifty Brewing Co. and her dedication to her craft continues to inspire beer lovers everywhere.
Steffany Wolfe, Master Distiller & DSP Operations Manager
After gaining experience producing a diverse range of spirits including Bourbon, Rye, American Single Malt Whiskey, Vodka, Gin, Liqueurs, and Agave Spirits in distilleries across New York, New Mexico, and Colorado, Steffany Wolfe joined Old Trestle in 2022. Prior to her career in distilling, Steffany worked as a classically trained Pastry Chef at farm-to-table fine dining restaurants in the Boulder/Denver area. Combining her passions for food and beverage production, Steffany strives to create unique and balanced spirits. Outside of work, she enjoys hiking, cycling, open water swimming, kayaking, and relaxing under the stars with her wife, dog, and two cats.
Steffany has two favorite spirits at Old Trestle—the American Single Malt Whiskey and Theory 003 Gin. "The American Single Malt Whiskey offers a smooth taste with hints of peat and cherry wood smoke, and pairs excellently with high-end sweet vermouth in a classic Rob Roy cocktail. Theory 003 Gin is a delicate and floral gin that is barrel-aged in ex-bourbon casks and blended with a small amount of local Sierra Nevada honey. While it is a sipping gin, it also pairs well with California Champagne to create a hyper-local French 75," she says.  
Katie Baillargeon, General Manager at FiftyFifty Brewing Co. Truckee Pub and Drunken Monkey Sushi
Katie grew up in Rhode Island and attended Endicott College in Beverly, Massachusetts. She studied business with a concentration in entrepreneurial business, which would eventually come in handy for her future endeavors.
After college, Katie worked in the food and beverage industry for several years. She managed a golf course dining room, catered weddings, and served at the Hyatt in Newport, RI over the summers. It was during this time that Katie's passion for food and beverage really began to take shape.
In 2012, Katie moved to Truckee, California to connect with her future brother-in-law and to snowboard for a winter. Little did she know that this move would be life-changing. Shortly after arriving in Truckee, Katie began working at FiftyFifty Brewing Co., where everything began to fall into place. After serving and bartending for six months, she took on a management role and eventually became the General Manager of the pub and then its sister restaurant, Drunken Monkey. Now, Katie calls Truckee home and the FiftyFifty Brewing Co. staff her family.
When Katie's not busting out work at the pub, she loves spending time with her three chihuahuas. Whether she's cruising on her super 73 to the river in the summer or hanging out on Donner Lake, the dogs are always by her side. Katie also enjoys snowboarding, spending time with her husband and family, camping, and traveling—especially to Belize and the Caribbean. She has a particular fondness for a crisp lager in the summer and a Sierra bourbon sour in the winter.
Katie plans to stay in Truckee, start a family, and continue to call this town her home. She loves everything that Truckee has to offer and can't imagine living anywhere else.