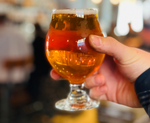 Disclaimer: At FiftyFifty Brewing Co., we strictly adhere to all laws and regulations related to alcohol consumption. We do not support or condone the consumption of alcohol by anyone under the legal drinking age of 21 years old. Our products are intended for responsible consumption by adults of legal drinking age. 
In February 2020, just before the world was plunged into chaos by the pandemic, Steven Rose, a brewer at FiftyFifty Brewing Co., introduced his latest creation, Calvin & Hopps, a big double IPA named after his real baby, Calvin, who was born the previous fall. Calvin is now a curious three-year-old who is a familiar face at the brewery.
"Calvin has been saying 'fermentors' since he was a year and a half. It wasn't his first word, but it was pretty close," says Steven, clearly proud of his son's early vocabulary.
Since the initial release of the clear double IPA, Steven has continued to refine the recipe. The second release features an enhanced hop character and balance, thanks to a blend of Ella (formerly known as Stella) and TNT hops. The combination produces a tropical fruit flavor, with notes of pineapple and mango that shine through. Citra hops tie everything together, creating the perfect balance that Steven was striving for in the first iteration.
In the time since Calvin & Hopps was introduced, Steven and his wife Brittany have welcomed a daughter to their family. Dorothy is still waiting for her namesake brew, but we don't think she'll have to wait very long. Steven is already scheming a new recipe in honor of their newest edition. 
Calvin & Hopps is available at the Truckee pub.