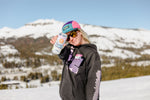 Your guide to taking our brew with you. 
While we love seeing your beautiful faces in the pub, sometimes you just want to crack a cold one at home. We get it. Enjoy FiftyFifty craft beer in front of your fire, at your dinner table, or just hanging with your crew. 
By the 16 oz. can: Available by the 4-pack, our cooler is stocked with your faves, including Totality Imperial Stout, Donner Party Porter, Tahoe Pilz, C.A.P.A (California Pale Ale), West Coast Haze, and Storm Chaser Lager. 
By the 12 oz. can: Grab a 4-pack of each of the Tahoe Series: Tahoe IPA, Tahoe American Lager, and Tahoe Pilz. 
Eclipse Bottles: The Beer. The Myth. The Legend. These were made to share. Varieties on hand (subject to change): Frey Ranch Bourbon, High West Boubon, Old Trestle Bourbon, Carmel Macchiato, Vanilla Coconut (bottle + cans available). Get 4 cans of the Vanilla Coconut for $18. 
Crowlers: Fill up a 32 oz. Crowler at the pub with any beer we have tap. 
You can also order online for delivery in California or pick up at the Truckee pub. Learn more here.